Well, that's it! Now that the final day of 2015 is upon us, we took a look back at last 365 days to find the most extreme weather events of the year from around the world. It sure was one for the record books as the world experienced some of the hottest temperatures, heaviest rain, largest snow storms and even one of the strongest hurricanes ever! Our list of extreme events of 2015 follows in no particular order.
1) 2015 on track to be the world's warmest year on record
The average temperature of the Earth in 2015 is expected to be 0.73°C above the 1961 - 1990 average of 14.0°C (~57.2°F), according to a statement released by the World Meteorological Organization in late November 2015. While 1°C may not seem like a lot, for things such as wildlife and plant life, it can have dangerous consequences. So what's to blame? One major factor is the record El Nino ongoing in the Pacific. Both land and ocean temperatures contribute to the overall global temperature and with record warmth already noted over land, this year's El Nino likely will push 2015 to the top spot. The official call will be released in early 2016.
Above graph courtesy of World Meteorological Organization
2) Record Strong El Nino
Headlines during the second half of 2015 constantly mentioned the incredible El Nino brewing in the equatorial Pacific as sea-surface temperature anomalies climbed to 1°C to 2°C above normal! With such high anomalies, it already ranks among the top three strongest El Nino events ever since records began in 1950. But why do we care what's going on in the Pacific? Ocean temperature anomalies are a crucial piece of the puzzle when meteorologists prepare seasonal outlooks because ocean temperatures greatly affect the atmospheric circulation for the entire world, especially during the winter months. For WeatherWorks' winter 2015 - 2016 outlook, click here.
Above image courtesy of Climate Reanalyzer of University of Maine
3) Hurricane Patricia - Strongest Hurricane in the Western Hemisphere
The Pacific Ocean continues its list of feats in 2015 with our number 3 spot...Hurricane Patricia! Patricia became the strongest hurricane ever for the Western Hemisphere (measured by lowest pressure) as it smashed records in a variety of categories, setting a new standard for lowest pressure, highest winds and fastest intensification. For more information on this historic storm, see our article.
4) Extremely Severe Cyclonic Storm Chapala - Severe Flooding in Yemen
While on the topic of tropical cyclones, let's discuss another rare event for 2015, this time in the Arabian Sea. The country of Yemen is an arid climate, averaging just 5 inches of rain yearly. That's why when Cyclone Chapala starting tracking towards Yemen in November 2015, strengthening to a high-end category 4 hurricane (reaching the "Extremely Severe Cyclonic Storm" status on the India Meteorological Department scale) and the first cyclone since 1922 to impact Yemen, the situation became very precarious. Chapala ended up making landfall on Yemen's southern shore, dumping 5 times the yearly rainfall, leading to catastrophic flooding and eight casualties.
5) India Heat Wave
The next weather rarity for 2015 also happened in the Eastern Hemisphere over in India. During late May to June 2015, the country suffered from dangerously high temperatures during a historic heat wave with most peaking between 110°F to 118°F! It was so hot that black asphalt reportedly melted! While India typically experiences hot temperatures during its dry season from March to July, these were the hottest since 1995! Unfortunately, it led to over 2500 heat-related deaths.
6) Incredible 24 - hour Snowfall Total
We need to cool off after all that heat talk, leading us to the number 6 item. In early March 2015, the town of Capracotta, Italy, located at 4,662 feet and about 3 hours from Rome recorded an astounding 100.8 inches of snow in just 18 hours! While the World Meteorological Organization does not track global extreme 24 hour snowfall records, NOAA does for the United States. To put this event into perspective, Silver Lake, CO holds the U.S record at 75.8 inches set in April 14-15, 1927.
7) Historic New England Winter
While on the topic of snowfall, who can forget the unbelievable snowfall recorded in New England from late January through March 2015. In a manner of just three weeks, over 80 inches of snow buried the region thanks to back to back blizzards. Boston, MA's seasonal snowfall grew from 10.6 inches on January 24, 2015 to over 95 inches by February 15, 2015. By March, many New England cities set new all-time highest seasonal snowfall records as many topped well over 100 inches.
MODIS Satellite Image of Snow Covered New England February 2015
8) Devastating Flooding Oklahoma and Texas
More extreme events occurred here in the U.S in 2015 with the devastating flooding in OK and TX coming in at number 8. During May 2015, consecutive days of heavy rain preceded an incredible slow moving, heavy rainfall event from May 23 - 25, 2015 where 10 - 13 inches of rain inundated towns from Oklahoma City, OK thru southeastern TX, leading to countless water rescues, all-time highest river crests and washed away homes. By the end of the month, the state average rainfall of 14.06 inches and 8.93 inches for OK and TX, respectively, were more than 4 times the previous all-time wettest months! Of course, Tropical Storm Bill's landfall in Texas in June 2015 only added insult to injury as an additional 5 - 10 inches of rain soaked the region. The rainfall from both months effectively ended the multi-year Southern Plains drought, according to NOAA.
9) Deluge in the Carolinas
South Carolina also experienced extreme flooding in 2015 in early October. Thanks to tropical moisture funneling in from off-shore Hurricane Joaquin combining with an upper level disturbance, extremely heavy rain pummeled the region, dumping 10 - 20 inches of rain! In particular, the city of Charleston, SC was severely impacted as over 14 inches fell at the airport in just 3 days with localized amounts up to 25 inches, ranking as a 1 in 1000 year event!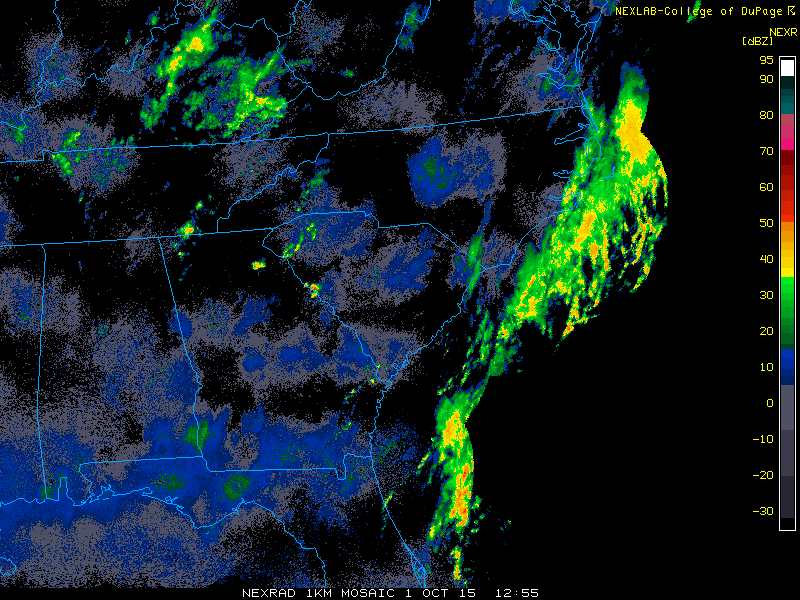 NEXRAD October 1 - 5, 2015 Courtesy of NWS Charleston, SC Office
10) Record Bering Sea Cyclone
It's only fitting that our final extreme event occurred in the final month of 2015. Between December 12 and 13, 2015, one of the most intense cyclones (measured by lowest pressure) for the North Pacific battered the Aleutian Islands. Sustained wind howled up to 94mph with gusts topping 122mph! With a minimum pressure of 924mb, it ties last November's Aleutian Island cyclone intensity which developed from the remnants of Super Typhoon Nuri.
Courtesy of CIMSS @ the University of Wisconsin-Madison